Auteur architecture
Great architects have left their mark on this city with different buildings that you can admire in this itinerary; open up your mind to enjoy the brilliance of our recommended buildings.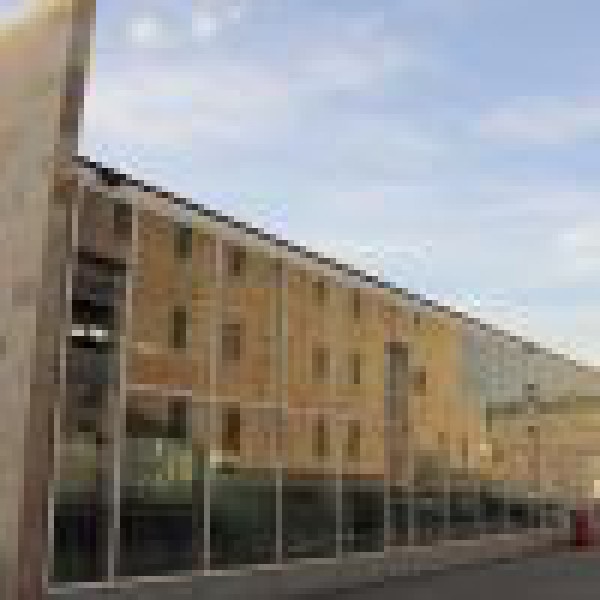 San Clemente Car Park-Sports Hall
San Clemente Car Park-Sports Hall
The best way of viewing this project by the Berlin architect Kleihues is from the distance and perspective of Alameda Park. How can you build a car park and sports hall 100 metres from the Cathedral without altering or degrading a World Heritage space?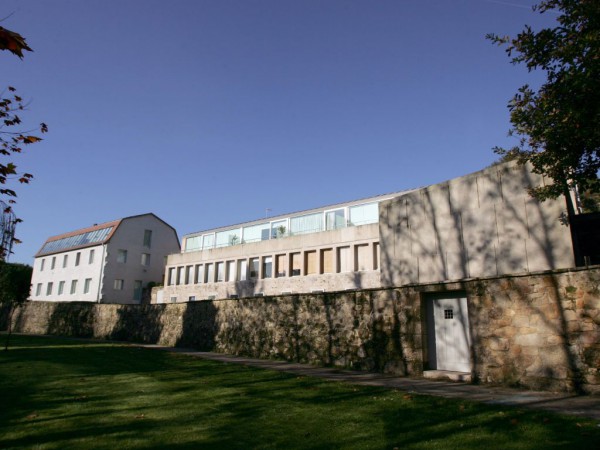 La Vaquería and other buildings
La Vaquería and other buildings
An old dairy farm converted into designer houses that were awarded the National Architecture Prize. A project by the architect Víctor López Cotelo. Nearby we can also see the Galician President's residence, designed by Gallego Jorreto. In the surroundings, Finca do Espiño is an estate featuring a modernist building by Jesús López de Rego, one of the few examples of such in the city.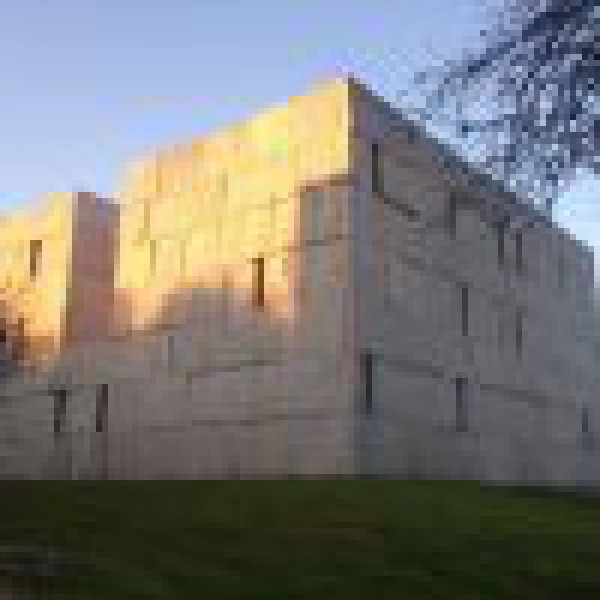 Vista Alegre Park
Vista Alegre Park
Vista Alegre Park, or Finca Simeón, houses four buildings by the architects Cesar Portela and Antón García Abril. This estate features the Natural History Museum, the Advanced Studies Centre, the School of High Musical Studies and the Galician branch of SGAE. We can also admire a great variety of trees such as palm trees, orange trees, apple trees, camellias or monkey puzzle trees.
This property belonged to the famous Simeón family of bankers.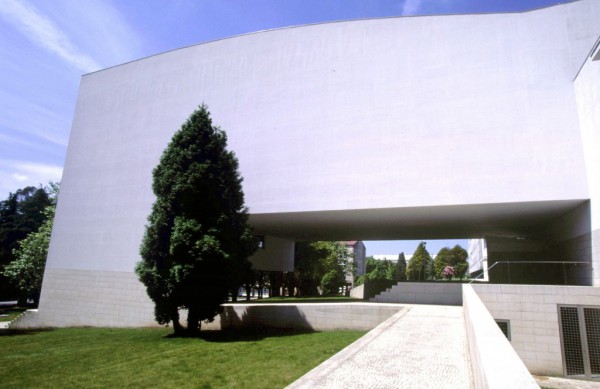 Faculty of Media Studies
Faculty of Media Studies
One of the Santiago projects by the Pritzker Architecture Prize-winner Álvaro Siza Vieira from Portugal, who also designed the city's contemporary art centre (CGAC). Perspectives, volumes, a search for light… an entire space for the senses in which Siza even designed the signs and furniture. The building houses the Faculty of Media Studies, where the degrees of Journalism and Audio-Visual Communication are imparted.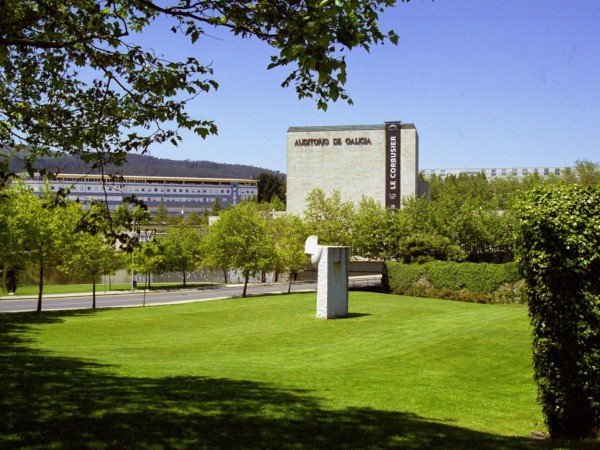 Auditorio de Galicia
Auditorio de Galicia
A project by Cano Lasso that pays tribute to Galician architecture: water, galleries, stone masonry or arcades. It is a large building set in Música en Compostela Park, where we can see a sculpture by Eugenio Granell, an illustrious Galician surrealist and artist who is remembered in his namesake foundation in the city centre.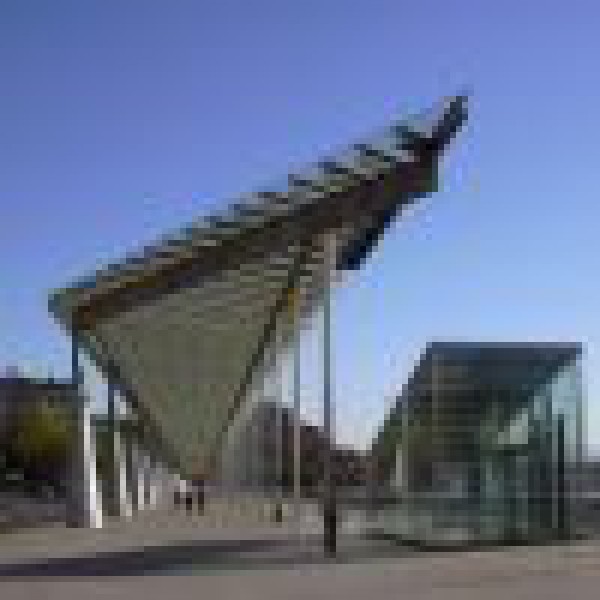 Xoan XXIII Bus Shelter
Xoan XXIII Bus Shelter
Very close to Plaza del Obradoiro, on the way to the bus station, we come across this interesting urban development project. The glass canopy, designed by the architects Albert Viaplana and Helio Piñón, is conceived to provide a different perspective of the entrance to the old town, representing a kind of balcony overlooking Monte Pedroso. It is actually a busy bus shelter used by tourists and local bus passengers. We recommend the views from the structure's widest part, observing the perspective of what almost looks like a small door leading to the city's monumental district.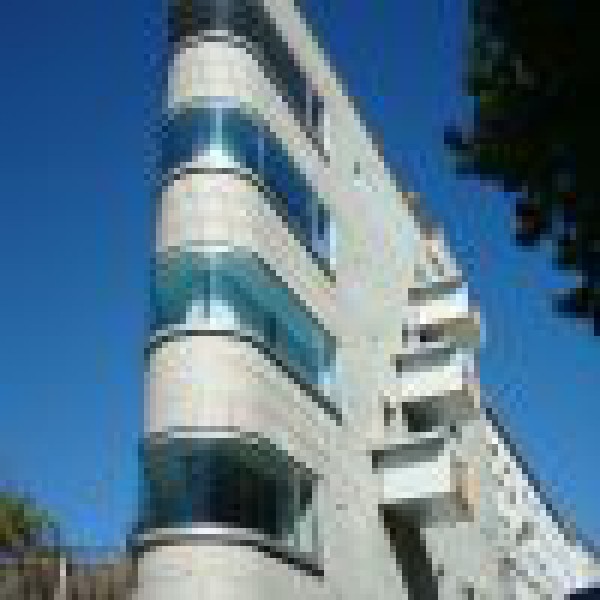 A Trisca Socio-Cultural Centre
A Trisca Socio-Cultural Centre
Curved panes of glass on the verge of breaking, skylights that stand out like chimneys –these are a couple of examples of what we will find on visiting this building. Almost a posthumous project by John Hejduk, a master among master architects, who did not design many buildings in Europe. However, Santiago lays claim to two of this interesting architect's projects, the other being the Hejduk Towers in the City of Culture.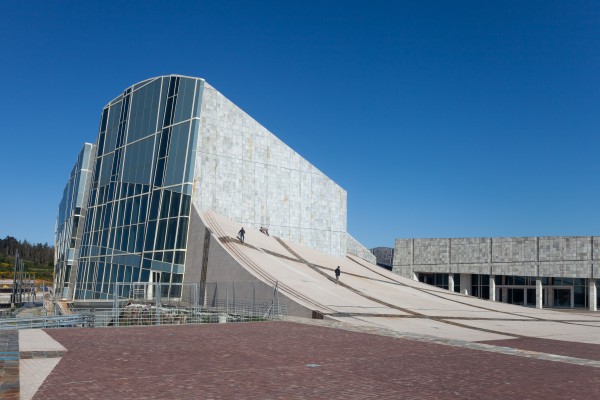 Cidade da Cultura de Galicia (Galician City of Culture)
Cidade da Cultura de Galicia (Galician City of Culture)
Designed by the North American artist Peter Eisenman, the Galician City of Culture is a contemporary architecture project that houses different spaces. The building reflects the almond shape of the city's old town and, as a curious technical detail, respects the different levels and heights of the terrain on which it was built. Its regular activities include guided tours at the weekend, interesting temporary exhibitions, music and children's programmes. It is possible to walk along the rooftops of some buildings, enabling us to enjoy spectacular views of the city and beautiful sunsets, especially from the Towers designed by John Hejduk.